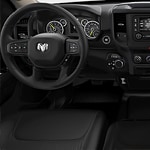 Anyone who wants a pickup truck wants to invest in a vehicle that will serve its purpose. Whether these purposes are utilitarian or not, people want reliable technology. The Ram 1500 is one example of a lightweight pickup that is proving itself to be quite popular, especially for its durability features.
The Ram 1500 comes with a multifunction tailgate that can effortlessly hold whatever loads you throw into it. Whether farm equipment, sports supplies, home improvement tech, or whatever else you need to haul around, this tailgate won't even suffer a scratch. Plus, its original swinging doors will make packing it a whole new experience.
The Ram 1500 also features a frame made up of 98% high-strength steel, so don't worry about your chances if things take a turn for the worse when driving. The Ram 1500 is one of the safest and strongest vehicles on the market - come take one out for a test drive here at Rentschler Chrysler Jeep Dodge.