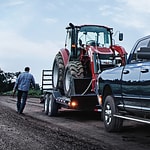 Pickup trucks exist to help people with their daily errands and jobs, especially when those jobs involve rugged work and tough tasks. That's why Ram is so well-known for delivering quality products that are able to get those jobs done. Here at Rentschler Chrysler Jeep Dodge, we get a lot of questions and attention related to the Ram 2500, which is one heavy-duty pickup that's got a lot going for it, especially its durability features.
The Ram 2500 comes with a smart diesel braking system built to relieve stress on your disc brakes when navigating slopes and hillsides. By engaging in speed control and slowing control on these surfaces, this system should help extend the life of the Ram 2500's brakes. Another durability feature would be the Ram 2500's durable steel frame, which was hydro-formed with strength in mind.
To see the Ram 2500 up close, come test drive one here at Rentschler Chrysler Jeep Dodge.