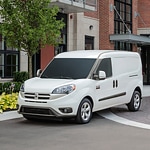 Here at Rentschler Chrysler Jeep Dodge, we are excited to announce that we are adding the Ram ProMaster City to our lineup of popular cargo vans and passenger wagons. The ProMaster City has a wide variety of features that make it a durable option that can stay in use for many years. Drivers can appreciate this durability and longevity that is the hallmark of the Ram ProMaster City.
The Ram ProMaster City is designed to last, and with one of the extended warranties that are available for the ProMaster City, you can rest easy knowing that if anything does happen to your vehicle, it will be resolved and you'll be back on the road with as little hassle as possible. In addition to having a warranty on the vehicle itself, consider a warranty that offers roadside assistance, which is just one less thing you'll have to worry about when the time comes for your vehicle to be serviced.
Interested in getting a closer look at the Ram ProMaster City? Come on down and visit our dealership in Slatington, PA. Our friendly staff will gladly help you with answering any questions you may have, and can set up a test drive for you so you can see firsthand the benefits of driving a Ram ProMaster City.